Smoke and Fire Damage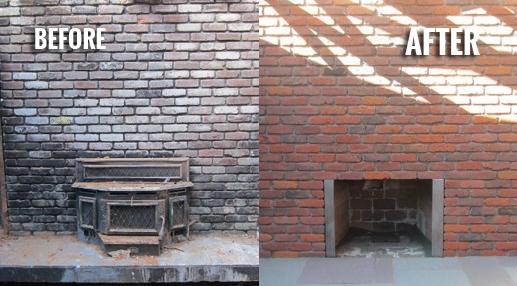 Metal, brick, wood, and concrete are all susceptible to damage from a fire. After a surface has been damaged by smoke or fire it is often extremely unsightly and carries a terrible odor. Traditional methods of cleaning fire damage like sanding surfaces can not only damage the surface but also rarely completely restore the surface to its original look. Crystal Soda Blast has many different options of blasting media to completely remove all soot and restore surfaces back to their original beauty after being damaged by smoke or fire. The media used for each project is carefully selected based on the extent of the damage and the surface we are cleaning. We always match the right media for the right job! Check out some of our smoke and fire damage restoration projects below.
Residential Fireplace Restoration
After a house fire this brick wall and fireplace was covered in soot. We were able to remove the soot and restore the fireplace insert back to it's former beauty using soda. Because it is a non-abrasive media, soda blasting can be used to remove soot and graffiti on brick, sandstone, marble, and other sensitive surfaces without leaving any evidence behind. In addition, a wet blasting nozzle provides a nearly dust free method of cleaning.

Seattle, WA - 76 Gas Station
The safest way to clean up this fire damage was dry ice. We started cleaning up the damage by 7pm the day of the fire. We were given a timeframe of 3 hours to complete the first round of this project. During this time, since the rest of the pumps were still operational, the station remained open to customers.
Read more about this project on our blog...
---

Stone Fireplace
Here is a stone fireplace that is covered in soot and smoke stain after a house fire. We used soda and sand to remove the soot to restore it to like new conditions. Occasionally we need to switch to a very fine non toxic sand to remove the deep stains.
---

Brick Fireplace
Here is a brick fireplace that is covered in soot after a house fire. We used soda to remove the soot to restore it to like new conditions. Notice how the brass even cleaned up without harsh chemicals or damage to the insert.
---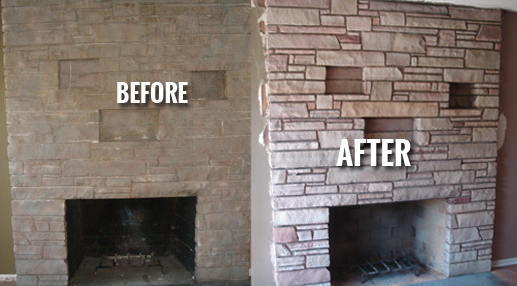 Mercer Island, WA - Residential
This was a residential sandblasting project where we restored a fireplace in a 1950's home on Mercer Island. The prior owner put splatter spray paint (Zolatone) on the stone which the new owners wanted to remove. The end result was a beautifully restored fireplace.
---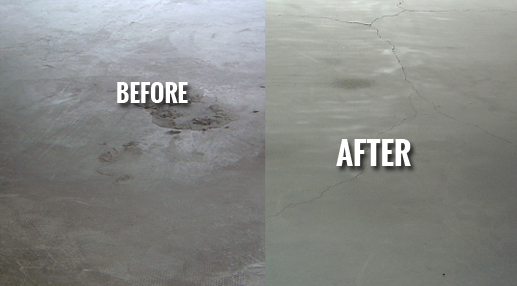 Seattle, WA - Residential Concrete Restoration
This was a concrete restoration project where there was a fire in the garage that resulted in household items melting onto their concrete floor. We were able to scrape and blast (using non-silica sand) the concrete to restore it to pre-fire conditions.
---
Do you have a Small Project That Needs Blasting?
If you have a movable item to blast such as a car or small boat, we recommend taking it to one of the local blast booths.

King County
Small Contracts and Suppliers
(SCS) - Certified Company